WHAT IS P.A.S.S.?
Peer Assisted Study Sessions (P.A.S.S.) are:
Free
Voluntary
For everyone in the course
Collaborative and participatory study sessions
Hosted in  in courses which are known to be historically challenging
Offered 3 times a week every week during the class period (2 in person & 1 online)
Facilitated by upper-level academically successful students who have extensive training on how to help students strengthen their study skills and build academic success
WHEN AND WHERE IS P.A.S.S. OFFERED?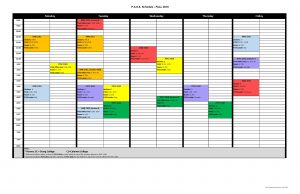 or click on link below:
WHICH COURSES IN THE FACULTY OF HEALTH HAVE P.A.S.S IN FALL 2018?
KINE 1020
KINE 2011
PSYC 1010
PSYC 2020
Important Note:
PASS sessions and PASS Office Hours will NOT be held during the Fall Reading Week - October 9, 2018 to October 12, 2018.
 I HAVE MORE QUESTIONS ABOUT P.A.S.S. - WHO CAN I TALK TO?