AGENTS OF CHANGE – GET YOUR IDEA FUNDED
The Faculty of Health is now recruiting students who are interested in starting their own healthy initiative – their own personal "Agents of Change Project". These initiatives can cover a broad range of categories, including physical, mental, and sexual health, or any of the social determinants of health. Projects that are selected will receive funding from the Faculty of Health to help with start-up costs (up to $500). Students can seek additional funding by crowd sourcing or fundraising. Selected candidates will receive training on how to start-up and finance their project.
APPLY HERE: https://tinyurl.com/ApplyAgents19
EXTENDED DEADLINE to Apply: Friday, February 14th, 2020 by NOON.
To be eligible to apply for the extended deadlines you MUST be available for Agents of Change Master Your Potential Bootcamp Training on February 22nd  from 9AM-5PM and Advanced Peer Leadership Training on February 19th, from 9AM-5PM.
Please visit https://stong.yorku.ca/apply-now/ for more program and event details.
If you have any questions regarding the Agents of Change Program, please email abdulk@yorku.ca.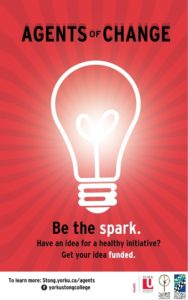 Agents of Change Consultation Event:
We would like to invite you to attend Calumet and Stong College's Agents of Change Consultation.
Agents of Change – provides up to $500 in start-up funds to help students launch their own healthy initiative in the community.
The purpose of this event is to bring together alumni, students, Peer Leaders, administration/staff, and other active community members together to network and discuss some of the strengths, challenges and opportunities of the Agents of Change program offered by Calumet & Stong Colleges.
Please find below the details of the Agents of Change Consultation Event:
Date: October 23rd , 2019
Time: 6:00-9:00PM
Location: Stong College Room 101
Please RSVP by Link: https://tinyurl.com/AgentsofChange19
For more information on the Agents of Change program, feel free to email scchelp@yorku.ca.
About the Agents of Change Program

"Mazen showed tremendous support getting us off the ground. Having that reputation behind us was really an honour and helped us a lot in getting where we are today."
- Ahbair, The Ascend Network
"It's a place for them to feel included, gain confidence and strengthen their social skills,"
- Janson, Autism Teenage Partnership
AS SEEN ON: