The Health and Wellness Program supports activities including hands-on workshops and themed events addressing the Body, Mind and Heart Tree Model for Health: (Nutritional, physical, sexual, financial, academic, etc.). For more information, check out our Stong and Calumet Colleges Health and Wellness Model (PDF) 
The program also supports the Wellness Lounge in Calumet College 129, where students have an opportunity to recharge and refresh. Students may come by relax, study, play games, have some FREE Coffee/Tea, engage in wellness activities, and ask any questions related to health and wellness.
Although the Wellness Lounge is currently CLOSED due to Covid-19, the Health and Wellness Program will continue to support our students and build a sense of connectedness and community in a potentially isolating time period. Specifically:
We will be hosting weekly Meet & Greet Sessions, where students can drop by, speak with peers, and wellness lounge staff. Social Distancing shouldn't be lonely!  Join our Meet & Greet Sessions to chat about your week, ask us questions and relieve some stress!
Join our Wellness Lounge Community Group Chat on Instagram!
Are you feeling lonely at home? Come be a part of our Community Group Chat, where you can share memes, comments, make connections, talk about health and wellness or just engage in a discussion with your peers!
For more information on joining the Weekly Zoom Chats, or the Community Group Chat, please follow us on instagram @wellnessloungeyork
Visit the Wellness Lounge page for more information on the Lounge and activities.
Abdul K. Mohammed, BSc
Student Success Programs Coordination/Support
Calumet and Stong Colleges
Faculty of Health, Office of Student and Academic Services
208B Stong College
York University, 4700 Keele Street, Toronto, ON M3J 1P3
Tel. 416 736 2100 ext. 33062| Email. abdulk@yorku.ca
Current Events
FACULTY OF HEALTH - MEET & GREET ON ZOOM 
June 2

4

, 2021 -

Meet & Greet 

- 

How 

to

 Get Involved on Campus in a Virtual Environment?
Do you have questions on how to get involved on campus in a virtual age? Want to meet new people and build connections?  Unsure where to start? Worry no more! Join the session to learn more about how you can get involved in the virtual student life on campus from student clubs, to research positions, intramurals, student governments, events, workshops, study-abroad programs, etc.
The Calumet and Stong College Health & Wellness team is here to support you! This week's session will also include Zentangle; which is a wellness art exercise that will help you relax and improve your concentration by drawing beautiful, structured patterns. Grab your pen and paper and join us for an afternoon of relaxing fun! 
Please RSVP in advance to receive the zoom meeting ID and Password.   
If you have any questions, feel free to email: abdulk@yorku.ca
---
Are you a current or incoming student to York University? Feeling nervous about online classes? Unsure about how to prepare? Worry no more!
The Stong and Calumet Health & Wellness team is here to support you. This session will be facilitated by health and wellness coordinators. You will get a chance to familiarize yourself with campus resources, get strategies on how to succeed academically online, tips on how to stay physically and mentally healthy during your university journey and much more. Additionally, we also have peer leaders who can answer your program specific questions and guide you on how to do well in your first-year classes. Join us for an interactive session with lots of fun games.
To see recordings of past Meet & Greet Sessions, click on the following:
If you have any questions, feel free to email: abdulk@yorku.ca
Past Events
Bell Let's Talk Day
Wednesday, January 30, 2019

Bell Let's Talk Day is on January 30th, 2019 and Calumet and Stong Colleges are offering a variety of workshops and drop-in activities throughout the day.
Information Booth, Prizes, Games and Free Hugs!
10:30am – 3:30pm, Stong College Atrium (Foyer at the Main Entrance of Stong)
Drop by to get free information and resources, play a game testing your knowledge of mental health and win free prizes!  Stong College's Spartan and Calumet College's Cougar will also be on hand giving free hugs throughout the day!
Coming Face2Face with Stigma Workshop
11:00am - 1:00pm, 101 Stong College - RESCHEDULED TBD
This workshop has been rescheduled but Moshe Sakal, a former peer support worker with lived-in experiences in mental health, will be at the information booth described above from 11:00am - 1:00pm to informally chat with students about his experiences and answer any questions.
Indigenous Perspectives: Mental Health and Addiction Seminar
2:00pm - 4:00pm, 101 Stong College
Sean Hillier is a queer Indigenous scholar from the Qalipu Mi'kmaq First Nation. Currently, Sean recently completed a research study examining the impact of policy on health care delivery in remote First Nations communities for First Nations people living with HIV/AIDS. Sean will open with a smudge using traditional tobacco and sage and then discuss address mental health and addiction within the context of inter-generational trauma. He will share the impact of colonization on his family, his research in mental health and HIV/AIDs and close with a Q&A session.
All of Us Talk Interactive Gallery
2:30pm – 6:30pm, 109 Stong College (Zacks Gallery)
Drop by Zacks Gallery to participate in a variety of art activities related to mental health such as stamping your fingerprint if you know someone who's been impacted by mental health which is hung on a suspended tree, responding to prompts regarding mental health on canvases and splattering paint on a large canvas to express your emotions. The gallery will be open from 2:30pm with a reception from 4:30pm – 6:30pm.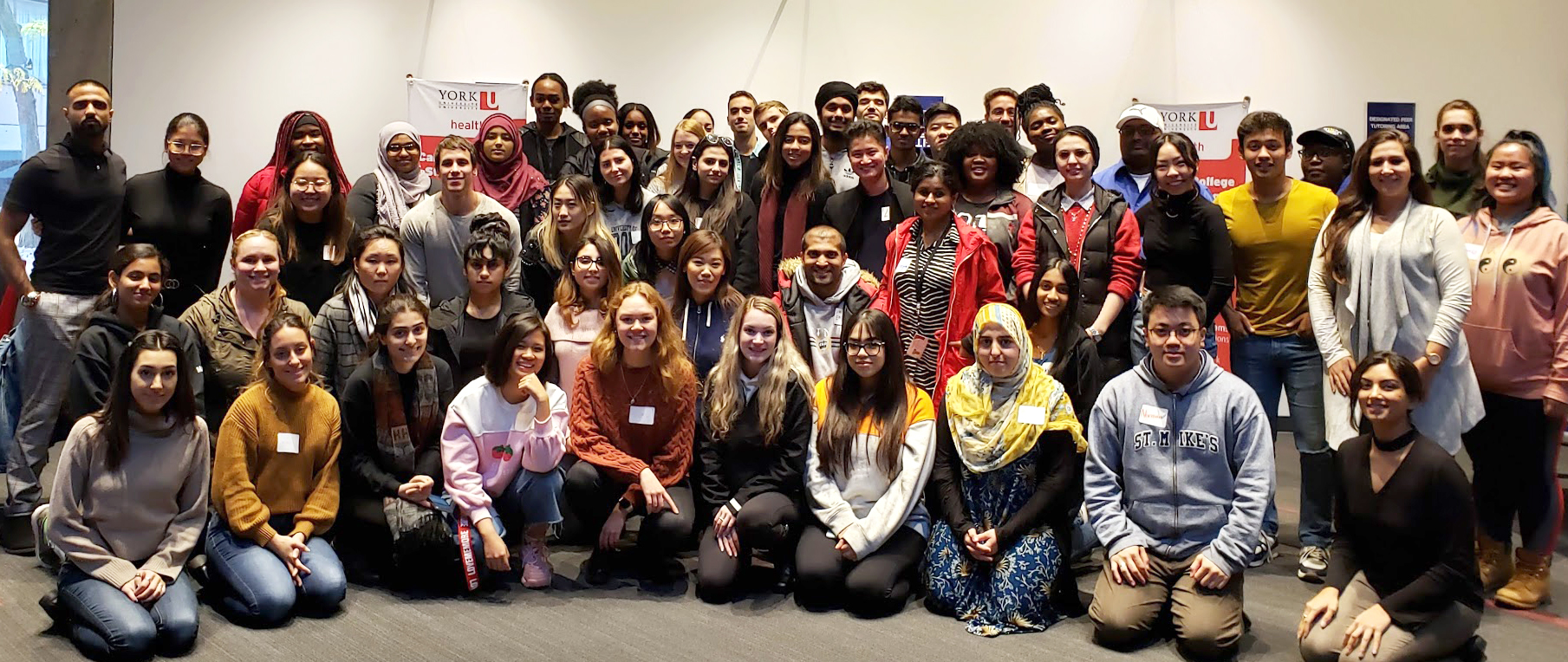 Meet and get to know our dedicated CCSC staff and Health & Wellness Education Coordinators who work hard to provide quality student success, mentorship, leadership & development programs, events and workshops for the Calumet and Stong College communities.